Be part of the Addiction/Recovery eBulletin®

Advertise with us and reach over 24,000 weekly subscribers!
DISTRIBUTION:
The eBulletin is sent out every Tuesday and reaches over 24,000 recipients in the USA and the UK. There is also a WEEKEND EDITION sent out on Friday mornings to everyone who did not open it by Friday morning.
AUDIENCE:  
Industry professionals, health and wellness clinicians, treatment centers, doctors, corporate CEO's, MFT's, admission coordinators, press and members of the recovery community.
WEBSITE PRESENCE:      
Tuesday's edition becomes the home page on the website, with over 10,000 views each week, and growing. Each edition is then archived where your ads will remain permanently active.
SOCIAL MEDIA:  
Each week the Addiction/Recovery eBulletin® is posted and shared thousands of times on FACEBOOK, TWITTER and LINKEDIN.
BULLETIN BOARD AD SPECS:
• Double Size Leader eBanner Ad: 3600 x 675 pixels (Call for price)
• Full Size eBanner Ad: 1800 x 675 pixels
• eBanner Ad linked to your company website
• Archived on –www.addictionrecoveryebulletin.org
NEW 2017 RATES:
Three months:      $2,500
Six months:          $3,500
One Year:             $5,700
Compare to NAADAC's bi-weekly newsletter
Compare to CCAPP Weekly
CALL: (818) 762-0461
THE LATEST, BREAKING NEWS!
Stories you can share with friends and colleagues.
The weekly Addiction/Recovery eBulletin® newsletter features news and articles from the previous week related to the world of addiction and recovery.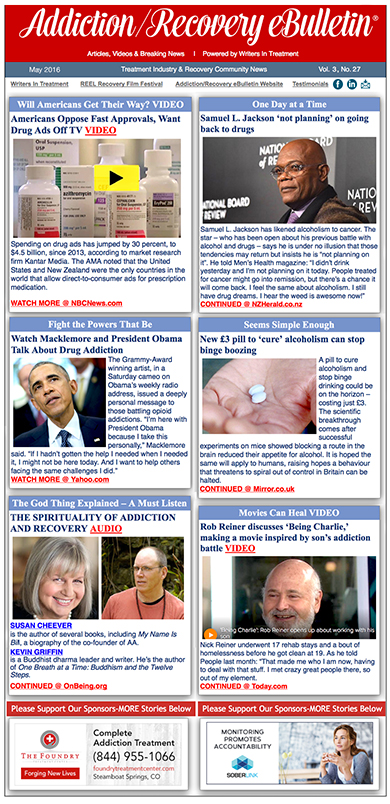 Categories include:
• Breaking News
• Scientific Studies
• Celebrity Sobriety
• Pharmaceuticals
• Process Addictions
• Alcoholics Anonymous
• Book & Film Reviews
• Editorials
• Medical Research
• Industry News
• Law Enforcement
• Obituaries
• Eating Disorders
• Treatment Advice
• Recovery Stories
• Group Therapy Topics
• Advocacy Initiatives
FOR INFORMATION: leonard@writersintreatment.org
Leonard Buschel, Publisher/Editor

For more information, please contact: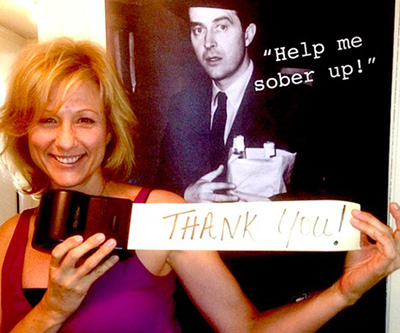 Ali Brell
818-762-0461
info@writersintreatment.org