REEL Recovery Film Festival ~DENTON, TX 2013 Edition
Presented by University of North Texas – Substance Abuse Resource Center (SARC)

September 19-21, 2013
The University of North Texas, the Substance Abuse Resource Center, and Eagle Peer Recovery, are proud to bring the first Southwestern viewing of the Reel Recovery Film Festival! A massive 3 day event on the UNT campus!
Information on the RRFF: "This multi-day event is a celebration of film, the arts, writing and creativity. We showcase filmmakers who make honest films about addiction, alcoholism, behavioral disorders, treatment and recovery. Slated for screening is an eclectic lineup of contemporary and classic films, documentaries and shorts from American and international, first-time filmmakers and industry veterans."
Admission is 100% free for students, $5.00 if purchased before hand for all general public, and $10.00 at the door if purchased on the day of the event.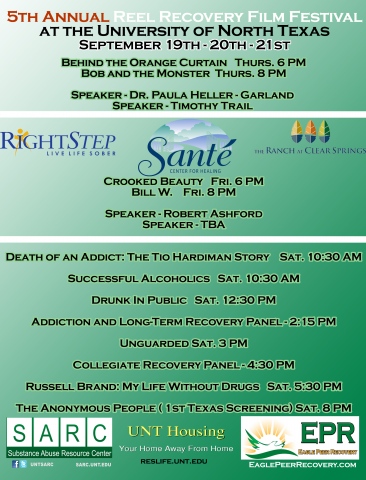 Where:
University of North Texas
When:
Wednesday, September 18, 2013 – 10:00am – Friday, September 20, 2013 – 10:00pm
How much:
$5.00
For ticket information call 1 (940) 565-2787
Sponsor:
Substance Abuse Resource Center
Event open to:
Open to the public
Website:
Ticketing
Contacts:
Robert Ashford
robertashford@my.unt.edu
(817) 614-4302