REEL RECOVERY FILM FESTIVAL & SYMPOSIUM®FOR IMMEDIATE RELEASE
Press contact:
Leonard Buschel
Reel Recovery Film Festival
info@reelrecoveryfilmfestival.org
818-762-0461
ALCOHOLICS ANONYMOUS' CREATION MOVIES
New York City, September 24, 2016, beginning @ 1:00 pm ET
CINEMA VILLAGE 22 E. 12th St. 10003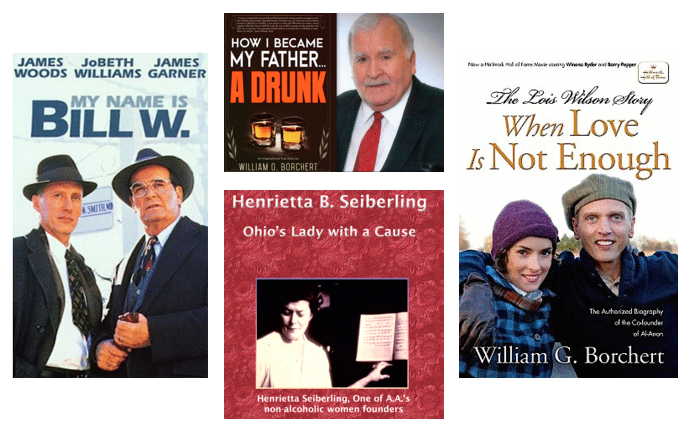 NEW YORK, NY, September 1, 2016 – 5TH Annual REEL Recovery Film Festival & Symposium™ presented by Writers In Treatment with RecoveryShop.com and Tres Vistas Recovery proudly announces Alcohol Anonymous Movie Tribute Day, Three Amazing Films about the Birth of AA and Al-Anon as part of the 7-day, longest recovery event in the country. Moviegoers will be entertained and educated on the genesis of 12 Step Recovery groups from the perspective of three pioneers who engineered a lasting and important element of recovery that helps millions of people who are suffering from or affected by addiction.
"My Name is Bill W." 1:00 pm ET. Based on the true story of Bill W. (James Woods), a successful stockbroker whose life falls apart after the stock crash of the 20's and how he comes to grips with his alcoholism. Along with a fellow alcoholic (James Garner) he forms a support group that would eventually become Alcoholics Anonymous
View trailer here:  My Name is Bill W.
Q&A with Author William Borchert
2:30 pm ET. In between the screenings of two very important films about the inception of AA, Mr. Borchert will discuss his books behind the films and the actual filming of, "My Name is Bill W." and "When Love is Not Enough, The Lois Wilson Story." Mr. Borchert is an entertaining and informative speaker, carrying his own message of recovery to medical groups, college campuses, large business organizations and recovery conventions.
Q &A with Dr. Kimberly Johnson from SAMHSA
3:00 pm ET (Substance Abuse and Mental Health Services Administration). Dr. Johnson is the Director of SAMHSA's Center for Substance Abuse Treatment (CSAT). She has earned numerous awards for her contributions to the behavioral health field including the Federal DHHS Commissioner's Award for Child Welfare Efforts and the National Association of State Alcohol and Drug Abuse Directors' Recognition for Service to the field of Substance Abuse Treatment and Prevention. Additionally, Dr. Johnson has authored a variety of publications on the field of addiction and recovery. Dr. Johnson has a master's degree in counselor education, an M.B.A. and a Ph.D. in population health.
"When Love is not Enough, The Lois Wilson Story" 3:30 pm ET starring Academy Award nominee Winona Ryder and Emmy Award nominee Barry Pepper.   This movie is based on the true story of Lois Wilson (co-founder of Al-Anon,) and her husband Bill Wilson (co-founder of Alcoholics Anonymous). It delves into the tale of their enduring but troubled love story. Ryder's performance makes it clear the extent to which Lois was unaware of how dreadful her husband's condition was as well as how isolated and confused she felt within her marriage.
View trailer here: When Love is Not Enough: The Lois Wilson Story
World Premiere of "The Mary Seiberling Tapes, Witness to a Miracle" with a
Q&A with filmmaker Kathy Anderson and William Huhn,
the grandson of Henrietta Seiberling.
5:00 pm ET   Kathy Anderson sits down with Mary Seiberling, the daughter of Henrietta Seiberling who introduced Bill Wilson to Dr. Bob in their Gate House on June
13, 1935. Mary recounts how she recalls her mother's motivation to make that introduction and what came of it as a result. Essential viewing for all AA History buffs.
About REEL Recovery Film Festival & Symposium®
The 5th Annual REEL Recovery Film Festival & Symposium New York Edition runs from September 23 through September 29, 2016. This multi-day event is a celebration of film, the arts, writing and creativity. We showcase filmmakers who make honest films about addiction, alcoholism, behavioral disorders, treatment and recovery. Slated for screening is an eclectic lineup of contemporary and classic films, documentaries and shorts from American and international, first-time filmmakers and industry veterans.
About Writers In Treatment (WIT)
WIT offers free referrals for individuals suffering from alcoholism or addiction. We publish the weekly Addiction/Recovery eBulletin® and produce the national REEL Recovery Film Festival & Symposium and the Experience, Strength & Hope Awards Show.