FOR IMMEDIATE RELEASE   
MEDIA CONTACT: Madison Hill Public Relations
Rachel Madison Hill
Madisonhillpr@gmail.com
(323) 445.0425
October 10, 2017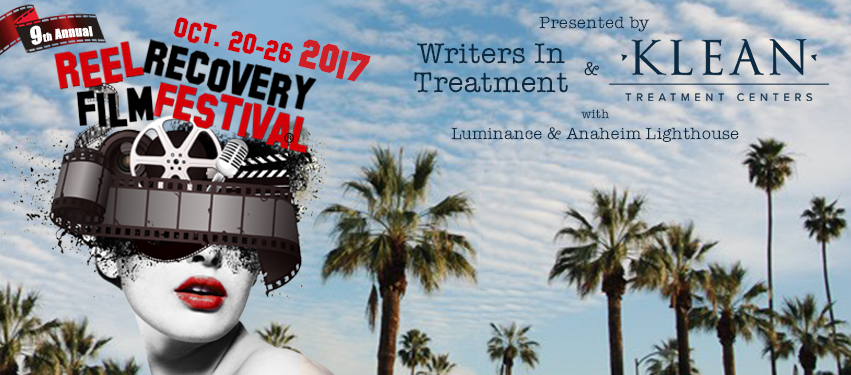 DRUNK ON CINEMA: OCTOBER 20-26 THE 9th ANNUAL REEL RECOVERY FILM FESTIVAL EXPLORES THE LANDSCAPE OF ADDICTION THROUGH FILM
October 20-26, Festival Kicks Off With The LA Premiere of The Sublime Documentary "The Long Way Back", The Week Includes More Than A Dozen LA Premieres
LOS ANGELES, CA – Writers In Treatment is proud to present the 9th Annual REEL Recovery Film Festival & Symposium the longest recovery event in the U.S, on October 20-26 at the Laemmle's NoHo 7. This seven-day event is a celebration of film, the arts and recovery. It showcases filmmakers who make honest films about addiction, alcoholism, behavioral disorders, treatment and sobriety. Slated for screening is an eclectic lineup of contemporary and classic films, documentaries and shorts from American and international, first-time filmmakers and industry veterans. There will be insightful conversations and engaging discussions with filmmakers and clinicians following many of the screenings.
Opening night, Friday, October 20th will feature the LA premiere of the new Sublime documentary, The Long Way Back, which details how drug addiction ravaged the California ska-punk band after front man Bradley Nowell's 1996 death from a heroin overdose. Opening night will also include a pre-screening reception with food and drink, located at The Federal (across the street from the theater). Tickets for the reception and film are $25, screening only is $10.
Other films making their Los Angeles premieres include The Man Who Built Peace and Welcome to the Men's Group, directed by Joseph Culp and starring Mackenzie Astin ("Scandal", "The Magicians"), Timothy Bottoms (The Last Picture Show) and Stephen Tobolowsky ("The Goldbergs"). Welcome to the Men's Group will also close the festival on October 26. Other films featured at the festival include: Dying in Vein, a deeply personal exploration of opiate and heroin addiction through a cinéma vérité style that drops you directly into the lives of an addiction and recovery and a lesbian couple trying to get clean. Bar Fights, a noir-inspired feature length film, from first time director Michael Nitkowski, from Atlantic City, New Jersey will be answering questions.
"We have a few first time directors this year, who have truly embodied the vision of film festival director Leonard Buschel. "Anyone with a $1000, a few friends, a good idea, patience and persistence can make a film worth showing on the big screen."
Cinephiles will flock to see two award winning double features. On Wednesday October 25th starting at 7pm. The 30th Anniversary of two of the greatest Hollywood addiction movies ever made. Less Than Zero, starring Robert Downey Jr. in his prognosticative role as the drugged out best friend of star Andrew McCarthy. And Charles Bukowski's Barfly a tour de forcefor Faye Dunaway and Mickey Rourke. Tickets here. $10.00 for both films
Now tighten your seat belts for Trainspotting and Trainspotting II as they careen off the tracks into your brain on Monday October 21st at 7pm. Free, click here.
Located in seven cities around the Unites States, The REEL Recovery Film Festival highlights the challenges faced by addictive behavior, especially relevant during today's opiate crisis.
Tickets to all films are available at the door. It is the policy of the REEL Recovery Film Festival to charge a nominal ticket price for all the films ($10), and to allow anyone admittance regardless of their ability to pay, if seats are available. 3500 FREE Tickets were donated by Luminance Recovery Center.
Festival sponsors include: KLEAN Treatment Centers; Luminance; Anaheim Lighthouse; Newport Academy; Betty Ford; Balboa Horizons; Gratitude Recovery; Harmony Place; New Directions for Women; Hotel California by the Sea; McShin Foundation, Malibu Hills Treatment Center and Social Model Recovery Systems.
For a full schedule and tickets for The REEL Recovery Film Festival on October 20-26 at The Laemmle NoHo, 5240 Lankershim Blvd, North Hollywood, CA 91601 visit www.ReelRecoveryFilmFestival.org
Writers in Treatment  www.writersintreatment.org
Founded by Leonard Buschel, Writers in Treatment helps individuals suffering from alcoholism, drug addiction, and other self-destructive behaviors find treatment sources for their illness. The organization also produces REEL Recovery Film Festival & Symposium® and the annual Experience, Strength and Hope Awards.