FOR IMMEDIATE RELEASE                    
REEL Recovery Film Festival
Reaches 10 Year Milestone –
The National & Int'l Festival Launches
in LA Oct 24-30 & NYC Nov 2-8 

LOS ANGELES – 10/09/2018 (PRESS RELEASE JET)

A decade-long film festival is no easy feat in today's saturated field.  The Reel Recovery Film Festival & Symposium presented by Addiction Policy Forum and Writers In Treatment will reach a major milestone: its 10th year of celebrating film, the arts, and creativity through honest films depicting addiction, alcoholism, mental health issues, treatment, and recovery. The week-long festival showcases more than 50 short, documentary and feature films. This years' festival will launch in Los Angeles, running from October 24th through October 30th at Laemmle's Royal Theater, followed by New York City at the Village East Cinema, November 2nd through November 8th.
Over the years the festival has earned praise for its ability to address critical issues faced by one in six Americans, either those directly in recovery themselves or by those affected by family and friends dealing with addiction issues. The national opioid epidemic is raging across the country and creating daily headlines making the festival more relevant than ever.
Co-founded in 2008 by addiction specialist Leonard Lee Buschel and his long-time friend Robert Downey, Sr., the Reel Recovery Film Festival has grown to 30,000+ festival goers who have been entertained, educated and inspired by many films at the festival.
300+ plus films shown over the years, 15% of which were premieres;

Presented in 12 cities: Los Angeles, Vancouver, B.C., Seattle, New York, Ft. Lauderdale, Sedona, Houston, Denver, Del Ray Beach, San Francisco, Richmond, and London;

Featuring original films from as far away as Iran, Ireland, the Netherlands, UK, New Zealand, Canada and as close as Burbank and Encino;

Oscar and Award Winning Films numbering 41 have been shown including- Trainspotting, Leaving Las Vegas, Boogie Nights, Half Nelson and classics Last Weekend, and Days of Wines of Roses (to name but a few).
In Los Angeles, starting Wednesday, October 24th, the 10th Anniversary opening night festivities will feature two films and an Opening Night Reception. The launch of the festival begins at 5:00 pm with the short film, Cleaner Daze, directed by Tess Sweet (Q&A with director following) then at 6:00pm, guests will attend an Opening Night Reception at Safir followed by the tragic yet awe-inspiring feature film Andy Irons: Kissed By God at 8:00 pm.
On Wednesday, October 26th, at 8pm is the centerpiece film, Eric Clapton: A Life in 12 Bars. The award-winning music-documentary directed by Lili Fini Zanuck for Showtime, is look at the life and work of guitarist Eric Clapton, told by those who have known him best, including BB King, Jimi Hendrix, and George Harrison. Admission is FREE, sponsored by Crossroads Centre Antigua.
The closing night program begins at 6:00 pm on October 30 with the feature Up to Snuff,  a humorous and poignant look at the man behind the music; W.G. Snuffy Walden, directed by Mark Maxey, featuring actor Martin Sheen, lead singer of The Animals Eric Burdon, and writer/producer Marshall Herskovitz (Traffic, Love and Other Drugs). There will also be an 8:00pm special screening and Q & A with Jerry Stahl of Permanent Midnight, written by Jerry Stahl and starring Ben Stiller, Owen Wilson, Maria Bello and Elizabeth Hurley.
Other highlighted film screening events include Animals, starring David Dastmalchian (Ant-Man, Ant-man and Wasp),  who will host a Q&A along with the director, Collin Schiffli on Monday Oct 29th at 7:30, and a FREE screening of the 30th Anniversary of the 80's classic Clean and Sober, starring Michael Keaton as a hustling drug addict who checks himself into rehab to escape trouble with the law, then realizes that it's exactly what he needs.
All week long, attendees will be treated to nightly films followed by Q&A sessions with filmmakers/expert panels and thoughtful discussions including Holly's Girl, by Paulina Lagudi, a thriller about bulimia and Harry Wiland's  

Do No Harm: The Opioid Epidemic

. (Full film slate TBA).
On Saturday October 27th a highlight will be a comedy night presented by Chuckaholics, Barry Diamond's Comedy Intervention at 8:00pm. This event features Barry Diamond and several well-known comedians with tickets on sale at Brown Paper Tickets.
Buschel says, "The Reel Recovery Film Festival and Symposium is a true film festival, and is not a Trojan Horse for a recovery rally or a 12-Step Hootenanny.  Our films teach but never preach. They neither condone nor condemn, exaggerates or minimize. They are first and foremost, honest, entertaining and sometimes inspiring."
Buschel adds, "When someone decides that their life is greatly improved by not drinking or taking other intoxicants, they don't lose their artistic sensibilities. We keep our intellect and we keep our cultural interests very wide and we take what we learn in the rooms into the world. None of this would be possible without the incredible support of our sponsors and the filmmakers who seek to share their work with the world."
Los Angeles Sponsors include: Brandi's Wish, Freedom TCOC, The Fix, Solstice Clinic, Balboa Horizons, Gratitude recovery, Addiction Therapeutic Services, Pillars Recovery, CAADE, Zen Life Recovery, Genesis Programs My 12 Step Store, Friendly House, Pax House Recovery, Rock To Recovery, Chuckaholics, Hazelden/Betty Ford Center, Social Model Recovery, Restore, Propping Up Recovery & Jericho Rose
New York Sponsors Include: The Guest House Ocala, Urban Recovery, The Fix, Seabrook, Propping Up Recovery & Jericho Rose.
Leonard Lee Buschel is available for interviews via phone/skype or in person.  Media Contact: Nadine Jolson 310 614 3214 jolsoncreativePR@mac.com
We proudly thank this year's sponsors:
Leonard Buschel and filmmakers are available for phone interviews.
For more information:
Ahbra Kay Schiff
Director of Operations & Outreach
ahbra@reelrecoveryfilmfestival.org
818.762.0461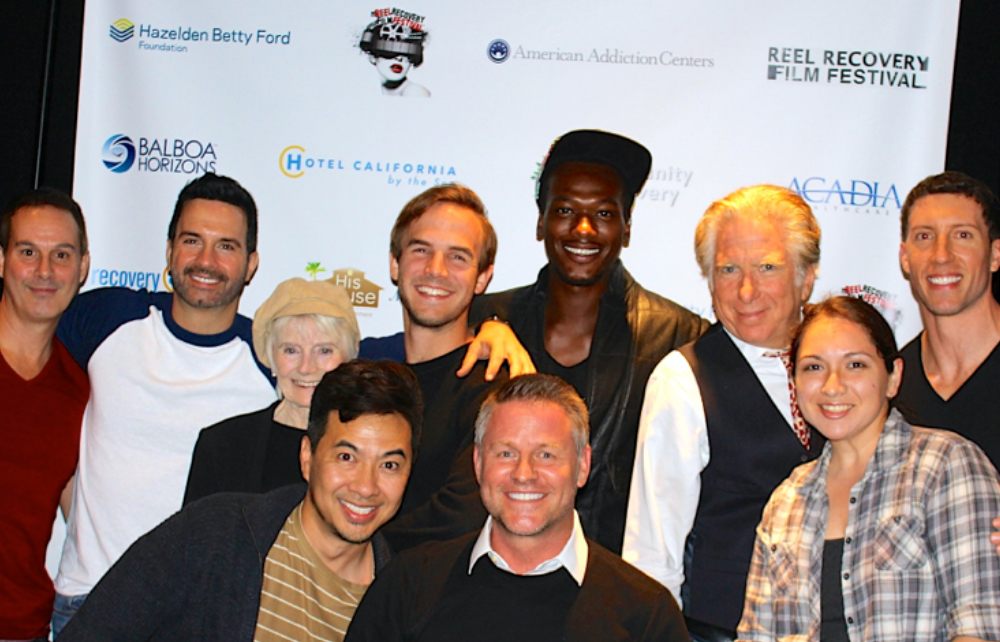 * * *